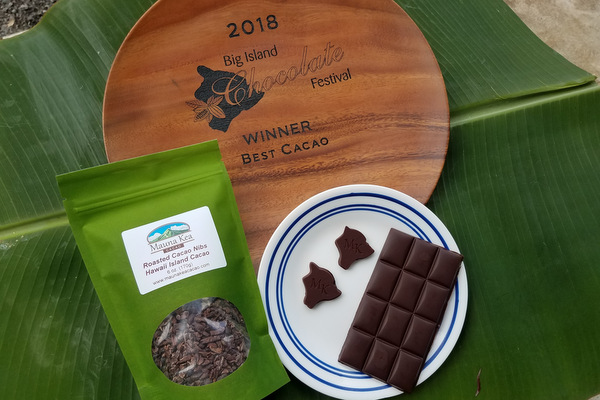 Mauna Kea Cacao can help you achieve accolades, whether you sell bean-to-bar chocolate or make chocolate for yourself, retaurants, friends or family.
Milestones from our cacao improvement journey are described below.
Hawaii Seal of Quality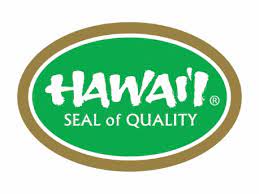 Mauna Kea Cacao received the Hawaii Seal of Quality after inspection by the Hawaii Department of Agriculture. Recognition under this program "represents the cream of the crop of Hawaii's agricultural producers." We are pleased to have earned this distinction as a high-quality single-estate source of Hawaii cacao. Buyers of our cacao can verify our cacao's origin on the Hawaii Seal Of Quality website. Chocolate makers may label chocolate made from Mauna Kea Cacao as "Hawaii Chocolate" or "Hawaii Island Chocolate" regardless of the location where the chocolate is produced.
TWO 2022 International Awards for Honoka'a Chocolate Company's Mauna Kea Estate Bars

We congratulate Honoka'a Chocolate Co. for two international awards for its 70% dark chocolate bar made from our single-estate cacao. The London-based Academy of Chocolate awarded a 2022 Academy of Chocolate Gold medal in the "Dark Bean to Bar (under 90%)" chocolate category to this chocolate bar.
The same 70% Mauna Kea Cacao single-estate bar produced by Honoka'a Chocolate also earned the prestigious Bronze medal in the World Final 2021-22 International Chocolate Awards. Mauna Kea Cacao is the only Hawaii sourced cacao among the winners of the "Micro-batch Plain/Origin dark chocolate bar" category.
Thank you, Honoka'a Chocolate, for showcasing the quality of our Hawaii cacao in these world competitions.
Providence Restaurant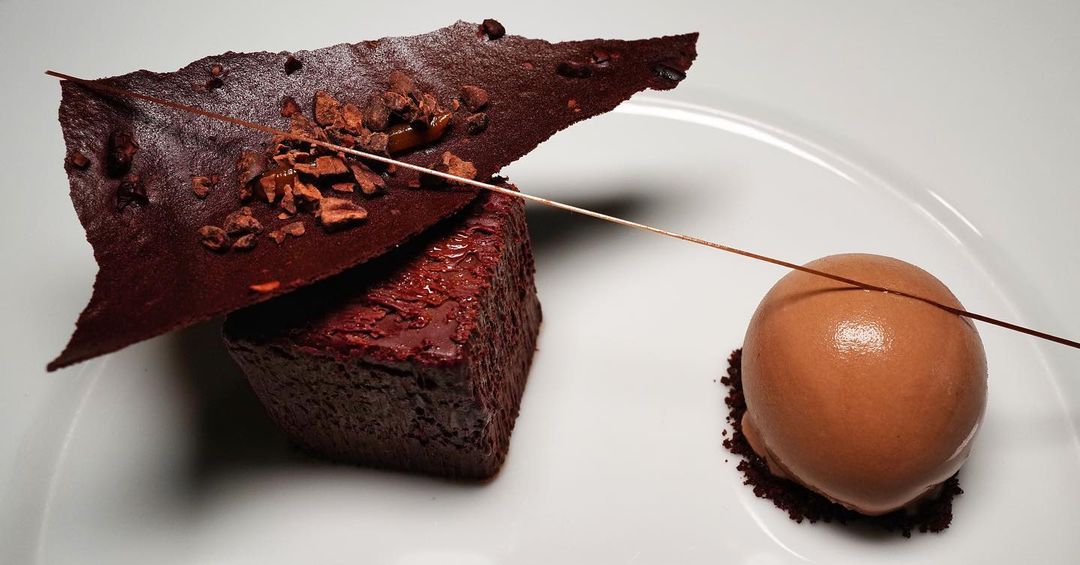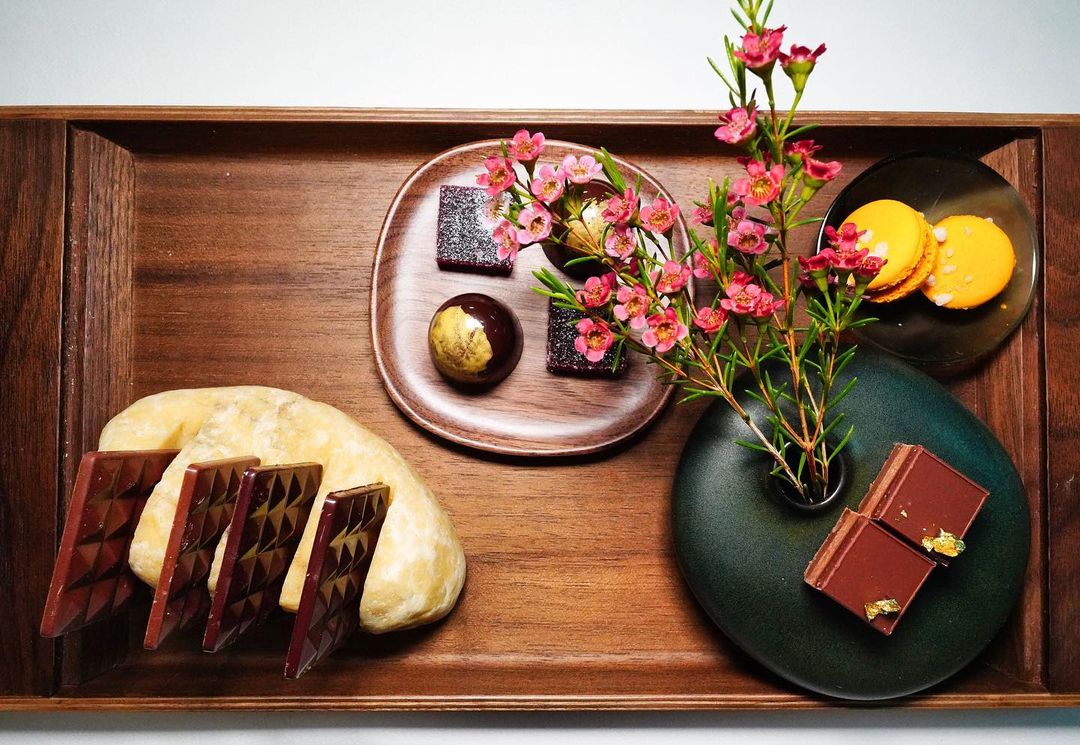 In early 2021, Providence Restaurant found and decided to source our cacao for their house-made chocolate. Accolades for Providence Restaurant include "Top 50 Restaurants in the United States" by Gourmet magazine; "Best Seafood Resaurant" by Los Angeles magazine; the #1 ranking in "Jonathan Gold's 101 Best Restaurant's" in the Los Angeles Times; a James Beard Award; and two highly coveted Michelin stars.
Our 2023 goal is to dine at Providence Restaurant.
2021, 2019 International Cocoa of Excellence Programme
Our single-estate cacao was in Paris, France for the December 2021 International Cocoa of Excellence Programme. Cacao samples from the best farms are selected by national organizations in each cacao growing country and forwarded to this international competition. Thank you to the Hawaii Cacao Foundation for selecting Mauna Kea Cacao as one of five best origins in Hawaii.
The International Cocoa of Excellence Programme occurs every two years. Our cacao was also selected to represent Hawaii in 2019. We thank Cocoa of Excellence Programme members for the time they dedicated to analyzing 221 samples from 55 countries. We learned so much about our cacao from the detailed results that we received. 2018 Good Food Award Winner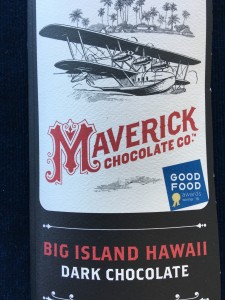 Maverick Chocolate Company's "Big Island" 70% cacao bar won a 2018 Good Food Award for dark chocolate. Maverick Chocolate won Good Food Awards in previous years, but this was the first time that it won a Good Food Award for a single-estate bar and the first time it sourced Hawaii cacao.
2018 Hilo Cacao and Chocolate Festival
In our first-ever public chocolate offering, Mauna Kea Cacao's "chilled chocolate" was voted second-place winner at the 2018 Hilo Cacao and Chocolate Festival. This untempered chocolate is our "farm-style" chocolate because it is kept in the refrigerator and does not need to be tempered. Untempered chocolate has a creamier texture and melts more quickly than tempered chocolate.
Congratulations to Puna Chocolate for their first-place finish.
C-Spot Review (December 29, 2017)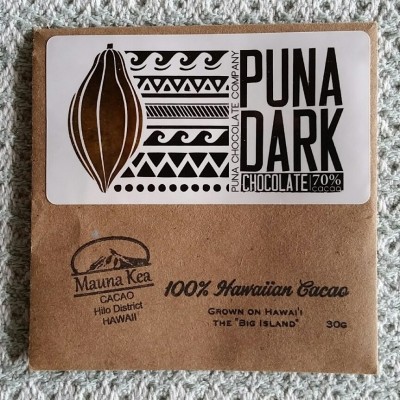 A chocolate review on the C-Spot website gave 4-1/2 stars (out of 5 possible) to five Hawaiian chocolate bars crafted by Puna Chocolate. The "Mauna Kea" bar, a 70% cacao bar made from our cacao, was described in the review as having "impressive reach and stamina". Additional descriptions of aroma, flavor, and quality are also provided.
2017 Big Island Chocolate Festival
Mauna Kea Cacao's unroasted cacao beans took second place in the "mix" (non-Criollo) category at the 2017 Big Island Chocolate Festival.